ACT TO IMPACT
US$100/YEAR
supports an adolescent girl to escape child marriage and continue a full year of educa-tion or vocational training.
US$1800
allows us to make available a clean water bore hole for hundreds of women, men and children in rural villages and urban slums.
US$250
purchases a used treadle sewing machine for a graduate of Seven Hills Vocational Training Program. With a sewing machine, a young woman can have a sustainable livelihood for lifetime.
US$2250
establishes a sustainable Solid Waste Management System to safely dispose off 350 Metric Tons of Municipal Solid Waste and recycle the organic fraction to produce 60 Metric Tons of Compost Fertilizer per year
US$855
establishes a bio-gas plant to recycle 400 Metric Tons of Cow Dung and 200 Metric Tons of Organic Waste to produce bio-gas which is an effective substitute of fire wood for cooking purpose.
Dr. Kathee Jordan's Vocational Training Center
Starting in 2007, with support from its own and the community, RUSTIC took the initiative to educate adolescent girls threatened with social vulnerabilities in the Sonadanga slum areas of Khulna. SHGO has been supporting the project since 2011. This support enables the project to establish a new school building and acquire necessary educational and vocational equipment. A well-composed team has been developed for the centre operation, including a Program Officer, three teachers cum trainers, and two support staff. Presently, 40 slum-dwelling adolescent girls of Sonadanga are involved with these activities. For long-term operation and sustainability, RUSTIC hopes to develop and facilitate the school centres further with quality and information technology (IT) based skill development activities, ensuring the target population's sound health and nutritional status.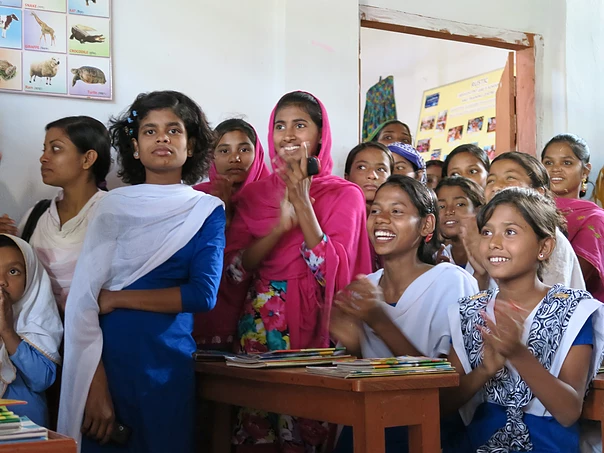 RUSTIC has been operating the Adolescent Girl's School & Training Centre since 2012 with the overall support of Seven Hills Global Outreach, USA. In the institution, non-formal education has continued for adolescent girls of age group 12-15 years. A total of 40 adolescent girls have been learning here each semester. In addition to that, 20 adolescent girls have been getting skill development training each semester. Up to date, 160 girls received training from the training institution. Among these trained girls, 55 reached the opportunities to have jobs and work at different garments factories. 44 girls are working on other income-generating activities in their own house. 19 girls have been reading in secondary school, and 42 girls got married and serving as housewives in their families.
RUSTIC has been managing the Dr Kathee Jordan Vocational training center for the adolescent girls and poor women at Sonadanga (word no. 17 & 18) under Khulna City Corporation by the overall supports of Seven Hills Global Outreach, USA. The main objective of operating the vocational school and training center is to educate the deprived and unemployed adolescent girls and women to make them skilled by arranging different off-farm income-generating activities like sewing, embroidery work, tailoring, handicrafts. And they will be able to earn money and be self-dependent.
---
RUSTIC's Other Involvement