World Environment Day' 2021
A human chain was formed on June 5, 2021 in Khulna at 10 am on Saturday demanding sustainable and permanent embankment for coastal protection as hundreds of coastal villages were submerged by the sea water during the Cyclone Yaas organized by several development organizations including Jonodyog Khulna, MASAS, Bangladesh Human Rights Implementation Organization, RUSTIC, Thed, Aparajita Youth Welfare Organization and With Sea.
Every year millions of people become the victim of adverse impact of climate change and its consequences like increasing cyclones with natural calamities with losing houses and property through breaking the coastal embankment. Hundreds of thousands of people in the southern part of the country are living inhuman lives with extreme misery. The environmental activists said that the local people voluntarily repaired the dam and the allocated budget was taken by some corrupted government officials and local people's representatives.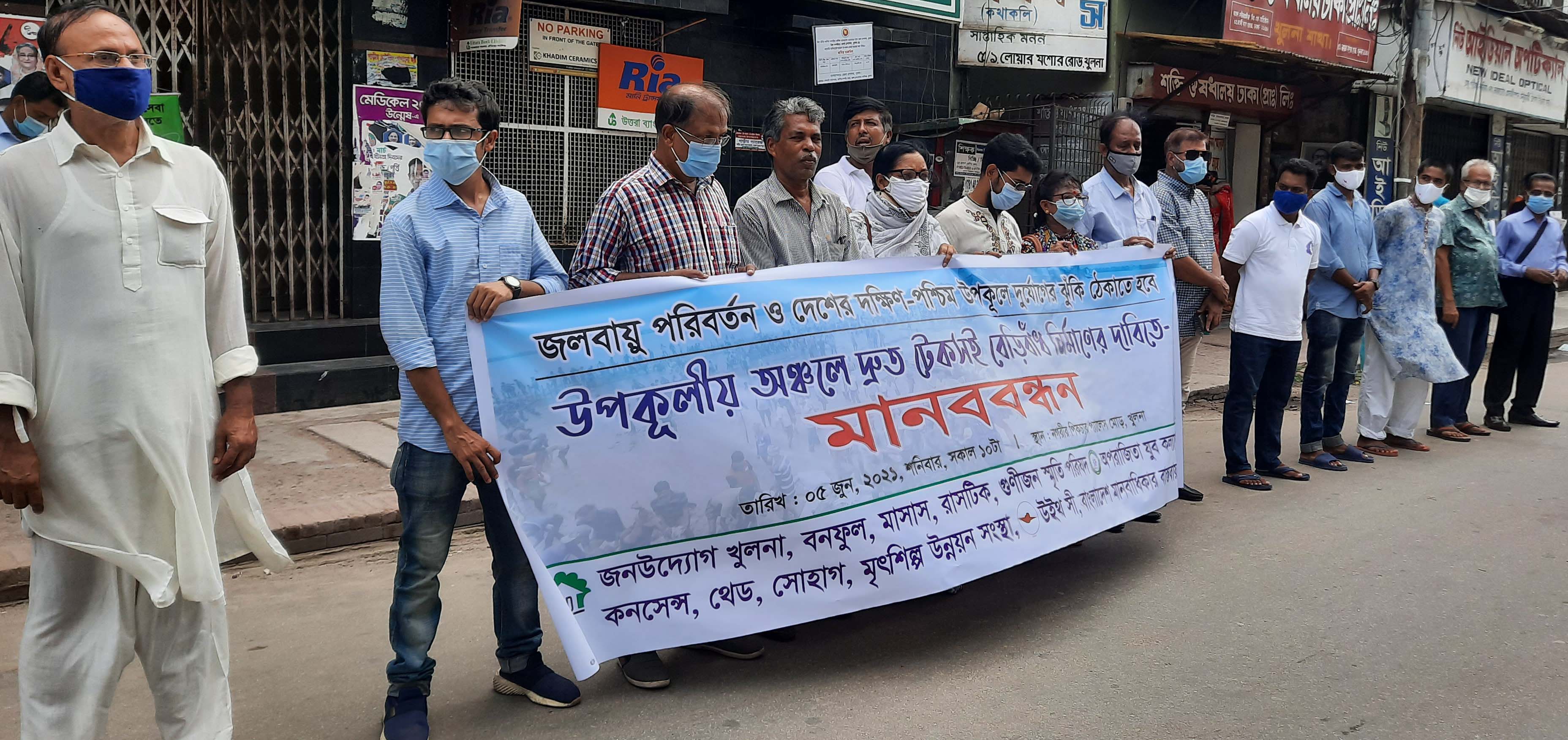 The meeting was presided over by Adv. Shamima Sultana Shilu, convener of Jonodyog khulna Women's Cell. The meeting was moderated by Mahendranath Sen, Member Secretary of Jono Udyog. Among dignitaries there were present Muktijoddha Moral Noor Mohammad, Anup Mandal, General Secretary of Aparajita Youth Welfare Organization, Imdad Ali, Adviser of WithSea, Md. Imran Jahan, Yasin Sheikh, Md. Tariqul Islam, Paresh Kumar Saha, Executive Director of Thed, Md. MA Saadi, Social Worker, Journalist Rashidul Ahsan, Suaibur Rahman, Krishna Das, Sonali Din Disability Organization, Md. Sabbir Khan, SM Ashraful Islam, Md. Mofizul Islam, Md. Raju Mallick, Md. Sakibul Hasan and others.
Speakers at the meeting demanded declaration of south-west coastal areas as disaster prone areas, formation of separate coastal boards, and special allocation in the national budget.
The World Environment Day is focus in the ecosystem restoration and its theme is "Reimagine. Recreate.Restore." The theme for World Environment Day 2021 is 'Ecosystem Restoration'. This World Environment Day will kick off the UN Decade on Ecosystem Restoration (2021-2030), a global mission to revive billions of hectares, from forests to farmlands, from the top of mountains to the depth of the sea.